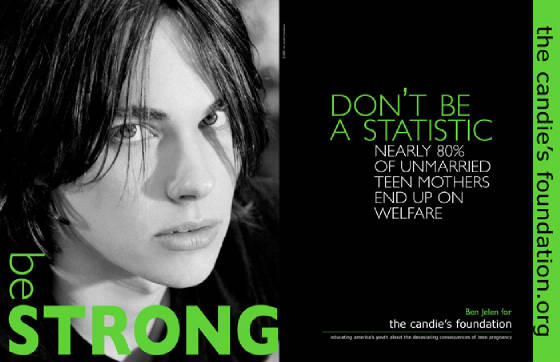 The national statistics support this conclusion. Twenty-five percent of teen mothers conceive more than one child as teenagers. Sixty percent of women living on welfare conceived their first child as a teenager. Most frightening of all, eighty-five percent of children living in poverty were born to teen mothers.
Source: Dosomething.org
11 Facts About Teen Pregnancy
The U.S. has the highest teen pregnancy rate in the industrialized world – twice as high as in England or Canada.
2006 saw the first rise in the U.S. teen pregnancy rate in 15 years.
An estimated 750,000 teens will become pregnant this year.
About 1 in 3 women become pregnant at least once before they're 20.
A sexually active teen who does not use contraceptives has a 90% chance of becoming pregnant within a year.
It affects education - only a third of teen mothers earn their high school diploma. And only 1.5% have a college degree by age 30.
It also affects their kids - girls born to teen mothers are more likely to be teen mothers themselves. Boys born to teen moms are more likely to end up in prison.
75% of girls and over half of boys report that girls who have sex do so because their boyfriends want them to.
8 in 10 girls and 6 in 10 boys say they wish they had waited until they were older to have sex.
Most teens (6 in 10) and adults (3 in 4) believe that teen boys often receive the message that they are "expected to have sex."
Diapers are expensive, but it's nothing compared to the $9 billion that teen pregnancy costs the United States each year. This includes increased spending in child welfare costs and public sector health care.
Fact:
According to Planned Parenthood, 1 in 4 teens is pregnant by the age of 18. Socioeconomic disadvantages arise from this, because most mothers this age are not capable of supporting themselves, much less a child. Quite a few teenage mothers end up living off food stamps, Medicaid, etc. Public funds cover the cost of about ½ of teenage births in the United States.
Source:
Half a Million • There are nearly half a million children born to teenage mothers each year.
2 • The number of people it takes to cause a teenage pregnancy. You both have to be responsible.
$800 • The average amount of annual child support that absent fathers give to mothers who gave birth as teens.
*50% of adolescents who have a baby become pregnant again within two years of the baby's birth.
8 in 10 • The number of teen fathers who do NOT marry the baby's mother. (Nearly 80% of fathers of children born to teen DO NOT marry the mothers.)
4 in 10 • The number of teen mothers, under 18, who finish high school.
91: the percentage of teens who think it's important to get a strong message that they should wait to have sex.

76: the percentage of teens who wish the media showed the consequences of sex more.

75: the percentage of teens who don't thinks it's embarrassing to admit to being a virgin.

60: the percentage of teens who wish they'd waited longer to have sex.

50: the percentage of teens who say they're still virgins.

50: the percentage of Latina teens who get pregnant at least once before turning 20

50: the percentage of guys who've never considered what their lives would be like if they got a girl pregnant.

35: the percentage of teen couples who report having initiated sex within the first month of their relationship

31: the percentage of male teens who did not use a condom the first time they had sex

30 - 38: the percentage of teens who are not consistent users of contraception

25: the percentage of people living with HIV in the United States...who don't know that they're infected
Source: The National Campaign To Prevent Teen and Unplanned Pregnancy

Despite the recently declining teen pregnancy rates, 34% of teenage girls get pregnant at least once before they reach age 20, resulting in more than *820,000* teen pregnancies a year. At this level, the United States has the highest rate of teen pregnancy in the fully industrialized world.